• Name
= Chris
• Country/TimeZone
= U.S./Pacific
• Have you met the requirements?
Code:
(GM Applicants MUST: Be Over the age of 13 and speak proper English. Must be Mature, Loyal, Trustworthy, Active, Friendly, Easy to get along with, Will respect ALL the members of SnailMS, Will not get into arguements, Have played the server for more that 1 week, and must have GM Experience. Failing to meet the Required will not be given any chances of becoming a GM.)
= Yes, I Do Meet The Requirements
• Do you speak proper English?
= Ofcourse I Do. xP
• How old are you?
= 17
• Tell me about yourself. How would you describe yourself?
= Well. Im Pretty Outgoing, I Like Hanging Out With Friends And Going Out To Parties.
Im Pretty Easy To Get Along With As Long As Your A Cool Person To Talk To. I Like Having
Positions Of Being In Control Or Being Top Dog But I Also Like Having The Responsiblity Of Having People Go To You For Help And Support Thats Why I'd Like To Be A GM.
• Why are you interested in this job?
= Because I Know I Will Make This Server Great And Give Players Lots Of Support, Also I Like How You Have The Responsibilty Of Taking Care Of The Server's Community And How People Go To You For Help And Other Things. Also I Like To Play MS Private Servers So It Would Be Cool To Be A GM Again.
• How can you help the server?
= I Would Try To Advertise The Server Constantly And Try To Get Newcomers To Come To SnailMS But I Would Also
Help The Server Get Rid Of The Constant Hackers That Private Servers Get. Another Good Thing is That I Get Along
With The People On This Server So Thats Good Too.
• What are your Strengths?
= My Strengths are Hosting Evenrts Such As Jump Quests And Custom Jump Quests That I've Learned To Do In Previous
Servers. Some Other Strengths Are That Im Loyal and Im Pretty Cool To Kick It With.
• What are your weaknesses? (Dont say nothing. Thats that's not an answer.)
= Nothing. Lol Just Kidding, Uhmm. My Weaknesess Are Pretty Much Just Not Being Able To Get Off Of The Computer
After School But On Weekends Im Not On As Much.
• What did you learn from one of your GM experiences?
= I Learned Almost Everything About Being A GM Except Making NPC Shops And All That.
For Example I Learned How To Make Custom Jump Quests And Custom Events That Most Private Servers Dont Do.
• If someone was hacking right in front of you, what would you do?
= I Would Report Them And Try To Contact A GM To Ban Him or If I Was A GM
I Would Ban Them Ofcourse Because They Broke The Server Policy. No Ifs, Ands, Or Buts. Lol
I Wouldnt Jail Him Because I Know He's Gonna Have The Intention To Do It Again Because He
Has The Hacking Tools.
•If your GM Application is not accepted, Will you quit SnailMS?
= Ofcourse Not Because I Love Playing This Server Because Of The Unique Community And Staff.
• Experiences?
= I Was A Great SuperGM On MapleFreeWorld. And On Another One Also But It Was A Long Time Ago So I Forgot The Name Of It But My GM name On MapleFreeWorld Was [GM]ImDope.
• What events can you host?
= Alot. For Example - Jump Quests, Custom Jump Quests, Hide n' Seek, Trivia Events,
Simon Says, Scavenger Hunt. And Some Other Ones I've Made Up.
• How will you treat other players in the game? Including other GM's.
= I Would Treat Other Players As If They Were Close Friends And I Would Treat Fellow GM's With Respect And Loyalty.
I Would Treat Everyone The Same And Not Go Around Picking Favorites.
• How often will you be on SnailMS?
= Abouth 7-10 Hours A Day Depending On Whats Going On In My Life Like Friends And Other Things.
• Why should we pick you?
= I Am A Commited And Dedicated Person That Would Be a Great Addition To Your GM List. I Know For A Fact
I Will Not Let You Down And I Would Try My Best To Make This Server The Best MS Experience for the fellow maplers on
the server.
• What position are you applying for?
= Level 4 or Higher Position.
• What rewards do you look for in this job?
= Im Not Really Looking For A Gain Or Reward In Being A GM Other Than People Knowing They Could Come To Me For Help
And Support.
• Do You have any suggestions on how we could make the server better?
= I Honestly Think The Servers Is Good As It Is. Uhmm You Could Put In A Custom NPC That tells Newbies How Everything Works And Where Everything Is And Does. Other Than That I Just Think This Server Needs To Advertise More Which I Will
Do Through Youtube And Other Sources.
• Last Words.
= I Think I Would Be Great As A GM And Thanks For Making An Awesome Private Server.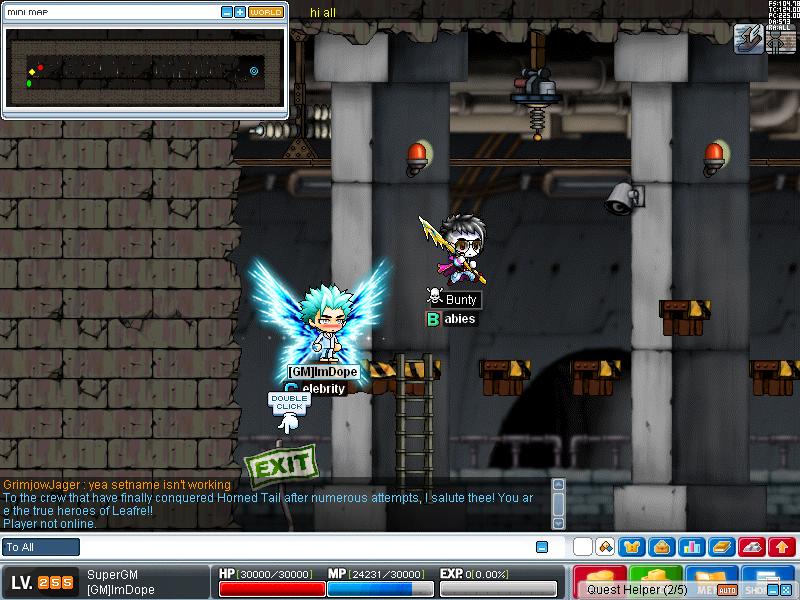 Picture Of Me Spying On A Reported Hacker Using GodMode.



Posts

: 2


Reputation

: 0


Join date

: 2010-06-21


Age

: 25


Location

: Cali.




---
Permissions in this forum:
You
cannot
reply to topics in this forum